FXSecret Immortal
Combo of 3 different strategies

High profitability

Drawdown control
FXSecret Immortal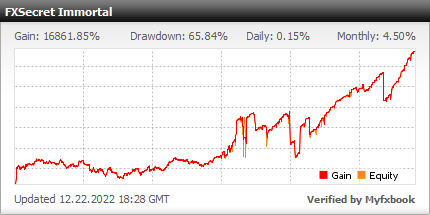 What is FXSecret and what we offer
FXSecret is a private community of successful traders that provides the best automated solutions for trading on Forex Market. Our company was established in 2012, but the development of Forex robots we started in 2009. A lot of experience in financial sphere has enabled us to create an entire portfolio of the best EAs. It allows us to smoothly diversify the risks and use the combination of trading systems, that is truly resilient to changes in the Market.
FXSecret Immortal – is a balanced and well-functioning combination of three different systems that are reliably and profitably combined on one account. It is possible to choose in the settings of the EA whether to use all three systems, or a certain number of them, if needed. Our system will automatically calculate lot sizes and StopLosses based on the risks specified in the settings of the EA.
Statistics and description
We would like to tell the whole story of developing of FXSecret Immortal, the impact of which you can see on our statistics graph. For convenience, we highlighted a few periods on the graph so that you can see everything clearly.
The pass to success for our trading account was thorny. Initially, on this account was trading a different strategy, which had several logics. At first it showed impressive results. But soon things went not the way we wanted, and the system stopped working stably. During that period, we got a drawdown of 65%, which remains on this account to this day.
After some time, we slightly improved the algorithms, and started using other logics of that system. The results were definitely better, but still they were far from perfect. After periods of profits there were downturns.
Starting approximately from April 2018, we began testing a completely new combination of systems on our account. Despite the fact that the combination of strategies was new, each of the systems separately has been well tested during several years of live trading. But for the first time we combined them on one account.
The results were impressive! The system started to stably increase our deposit, without periods of downturns. The principles of the new combo work in such a way, that the system always stably brings profit and simply cannot have periods of long unprofitable months.
Here you can buy the combined system of three different successful strategies.
After purchasing you will get:
1 license for any account

Versions for MT4 and MT5

Possibility to change account online unlimited number of times

Settings for easy setup

Lifetime support 24/7
For trading with FXSecret Immortal combo system it is preferable to have a minimum deposit of
$1400 for a reliable trading
, or
$700 for an aggressive trading
.
Contact us
Your request is accepted.
Thank you for contacting us.